Although panels are one of the most popular floor cladding, they are not obvious choice to all interiors. Probably by the time of thinking about finishing of the kitchen, the bathroom or the hall You have ceramic tiles in mind. We want to show You, that there are more possibilities in fact and it is worthy to give panels a chance – these in waterproof version.
Flooor panels in last dozens of years passe dan impressive metamorphosis. The perishable and little visually atractive products are replaced now by planks with excellent technical parameters and natural design. Their quality is constantly raised, thanks to what they find more and more aplications. The property, which makes, that panels are even able to compete with traadditional tiles is waterproofness.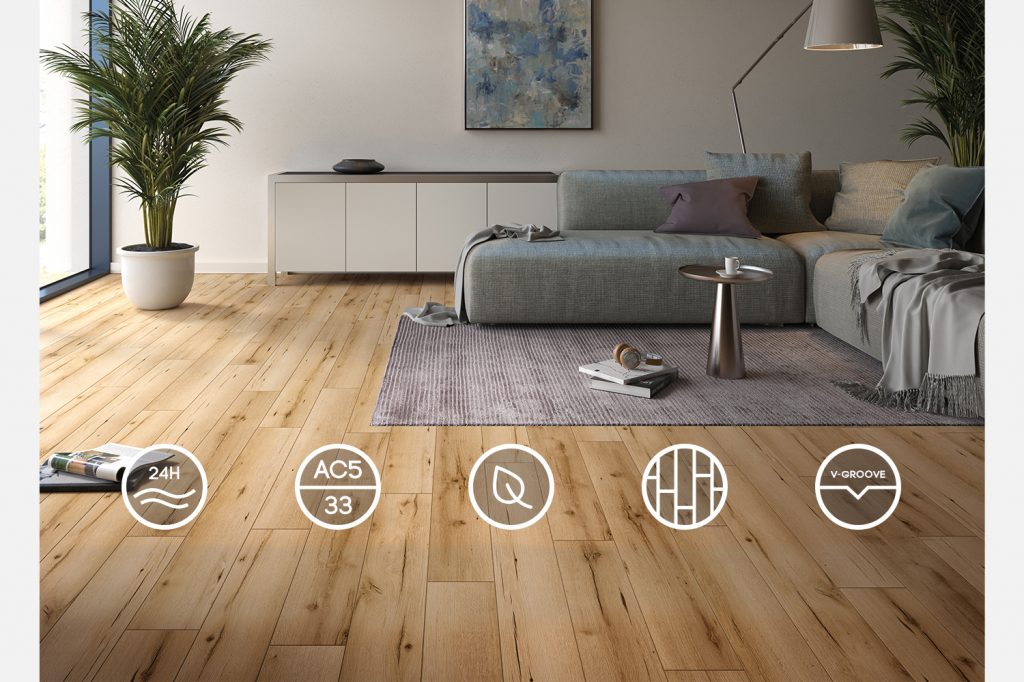 Spilled water? No problem!
In Classen we introduced several collections of waterproof lamited panels: Impression 4V, Ambience 4V, Vision 4V, Expedition  4V and Trend 4V. What distinguishes them is hydrophobic coat and modified Megaloc Aqua Protect installation system, which not only speed up  laying of the panels, but also protects their edges  against their swelling. Thanks to that properties the floor is not damaged even after 24 hours of contact with water.
You can imagine how useful that feature is. The viev of spilled drink on the floor will not anymore induce the fear about floor demaging, and necessity of immediate wiping of it. Even if You will not noticed immediately, that the water has still dripped from the umbrella, and flowerpot has leaked You can be calm about panels appearance. You have 24 hours to react – it will be enough, that in this time a liquid will be removed from the floor, and on its surface any distortion will not appear.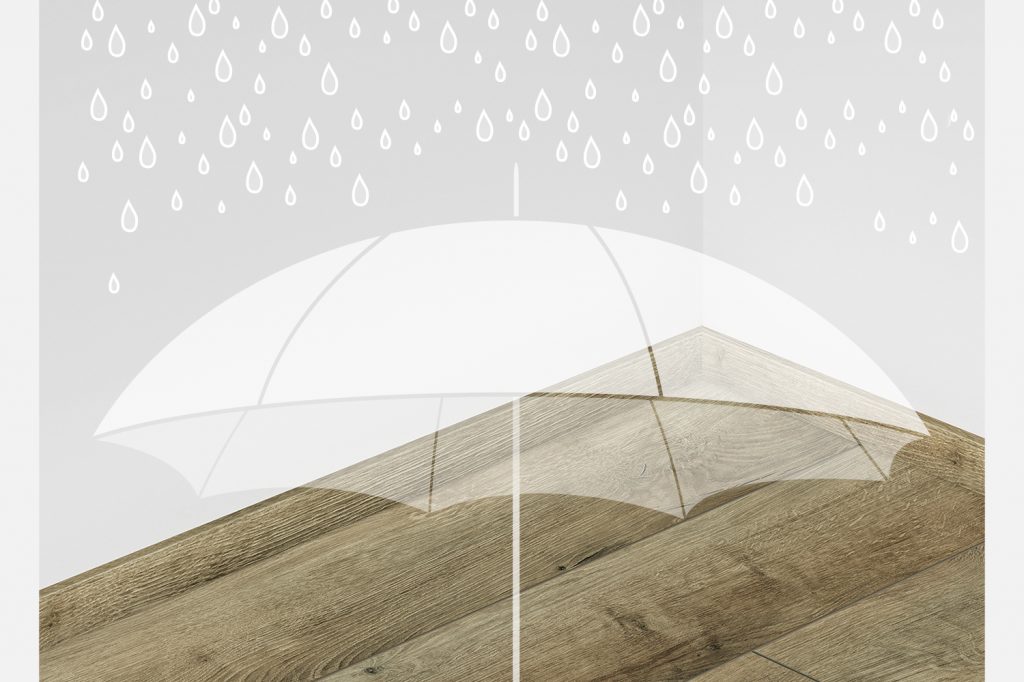 Outstanding durability
Waterproofness is undeniable asset of mentioned panels, but not the only one. Their uniquestrength also deserves for atention – the planks surface were finished in LLT anti scratch technology, which guarantees perfect scratch resistance. If breaking the dishes or walking around the house in high heeled shoes is happened to You then, now You can do this freely, and the floor keeps its original look.
Consistent house aesthetic
The fashion for open spaces makes, that the hall, the kitchen, the dining room and the living room ar often common area. In case of the first two interiors we usually decide for installation of ceramic tiles. To the others, less exploited interiors we choose floor panels, which are more pleasant to touch. Using of two types of cladding requires however skillful combination of them and their matching under consideration of aesthetic.
Decoration will be definitely more harmonic if in whole dining and resting area You choose the same type of floor finishing. For this task the perfect choice are waterproof panels – they are reliable, and thanks to natural colouring, oaken decors and profiled edges they are presented very elegant.
To the bathroom – Ceramin Vario composite tiles
And what with interiors, in which  moisture persists longer than 24 hours? We recommend Ceramin Vario composite tiles, about which you can read more here.
As You can see the ceramic tiles are not at all irreplaceable, and similar properties have the waterproof panels. May be it is worthy to be tempted by less traditional solutions? 😉