All our actions have an impact on the natural environment of future generations. This ecological awareness is the premise of our daily work. It is the drive for the continuous further development of our products. Sustainability is the basis of the CLASSEN Group's corporate strategy.
As a medium-sized family business, we think in closed loops; the sustainable and responsible use of resources is a matter of course for us – from the procurement of raw materials to production and recycling. Our nearly 2,000 employees and our management team live this philosophy in appreciation of our planet.
Sustainability, conservation of resources and the protection of the environment are an obligation for the CLASSEN Group and its employees towards future generations.
Whether laminate flooring or CERAMIN: For the CLASSEN Group, sustainable products from ecological production and carefully extracted raw materials are part of the corporate vision. A self-commitment declaration and numerous independent certifications confirm this claim.
Laminate flooring
In the middle of the Brandenburg forest, in Baruth (near Berlin), the CLASSEN Group produces premium laminate flooring, 100 % integrated from wood cutting to the finished product. All waste materials generated in production are used either materially or thermally for the production of process energy. The laminate is manufactured in an environmentally friendly manner, developed using the latest technology and impresses with its high-quality finish. All CLASSEN laminate products bear the "Blauer Engel" (Blue Angel) environmental seal of the German Federal Government.
We only use wood from sustainable forestry certified according to FSC® (FSC C100583) and PEFC (PEFC/04-31-0824) as well as from other controlled sources. As a rule, we obtain the wood from the immediate surrounding area in order to keep the delivery routes short.
CERAMIN
Since 2011, CLASSEN has been producing robust, durable polymer flooring at its Kaisersesch site, based on CERAMIN, a PVC- and pollutant-free material that we developed and patented ourselves. CERAMIN is the only market-ready alternative "Made in Germany" that already makes polymer flooring 100% recyclable, does not pollute the environment and thus the future of the next generations, and does not contain chlorine, phthalates or other harmful plasticisers or stabilisers. The flooring is also characterised by its high-quality surface decors as well as its ease of use, which is shown, among other things, in its ease of installation as well as its resistance to moisture and UV.
All products with CERAMIN from CLASSEN meet the requirements of the eco Institute label and the "Blauer Engel" (Blue Angel) environmental seal of the German Federal Government, which are only awarded to products without PVC. We have been selling our polymer flooring based on CERAMIN worldwide since 2011. We plan to double the production capacity in Kaisersesch in 2022, and further increases are planned for the future.

Our CERAMIN material meets the requirements of the EU Strategy of Plastics:
A. Optimal product design and the associated recyclability
B. Durability, reusability
C. Production incl. use of internal waste and external recycled content (incl. postconsumer)
D. Recycling of products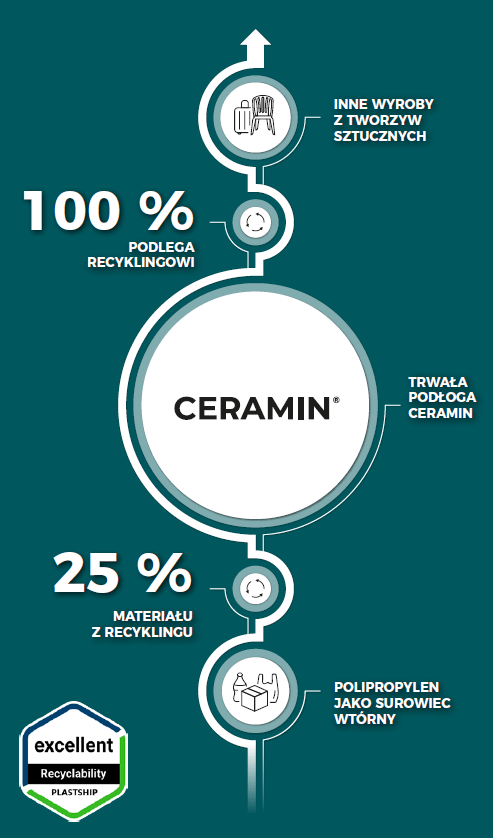 Our certificates:
Certified energy management
The CLASSEN Group has been operating energy management systems at all its locations since 2011 and has them regularly certified on a voluntary basis in accordance with DIN EN ISO 50001. With the certification, CLASSEN commits to a permanent improvement in energy use. The goal of our "CO₂ ZERO" strategy is to soon produce completely CO₂-neutral. In 2020 alone, 17,000 tonnes more CO₂ were saved across all locations than in the previous year.
Certified environmental management
An environmental management system in accordance with the DIN EN ISO 14001 standard was introduced and certified at our Baruth (near Berlin) production site as early as 2014. We systematically include environmental aspects in our business decisions, which is why our environmental management system was officially certified.