For a long time floor panels are not perceived in categories of utility. Properly matched to interior needs and style, they would become a decoration of it. The final floor appearance, in large part  depends on surface structure, which is chosen. Which variant will be worked best?
About panels aesthetic decide several factors, such as: colour, size, V-fugue and texture. This last parameter effects not only on visual reception of panels, but also on that, how they will be to the touch. The most popular types of structure are: wooden, synchronous and stone. It depends on, which variant will be selected, the floor can be looked completely different. That is why it is worthy to make a considered decision. We will help You with that!
Practical solution, which suits every pocket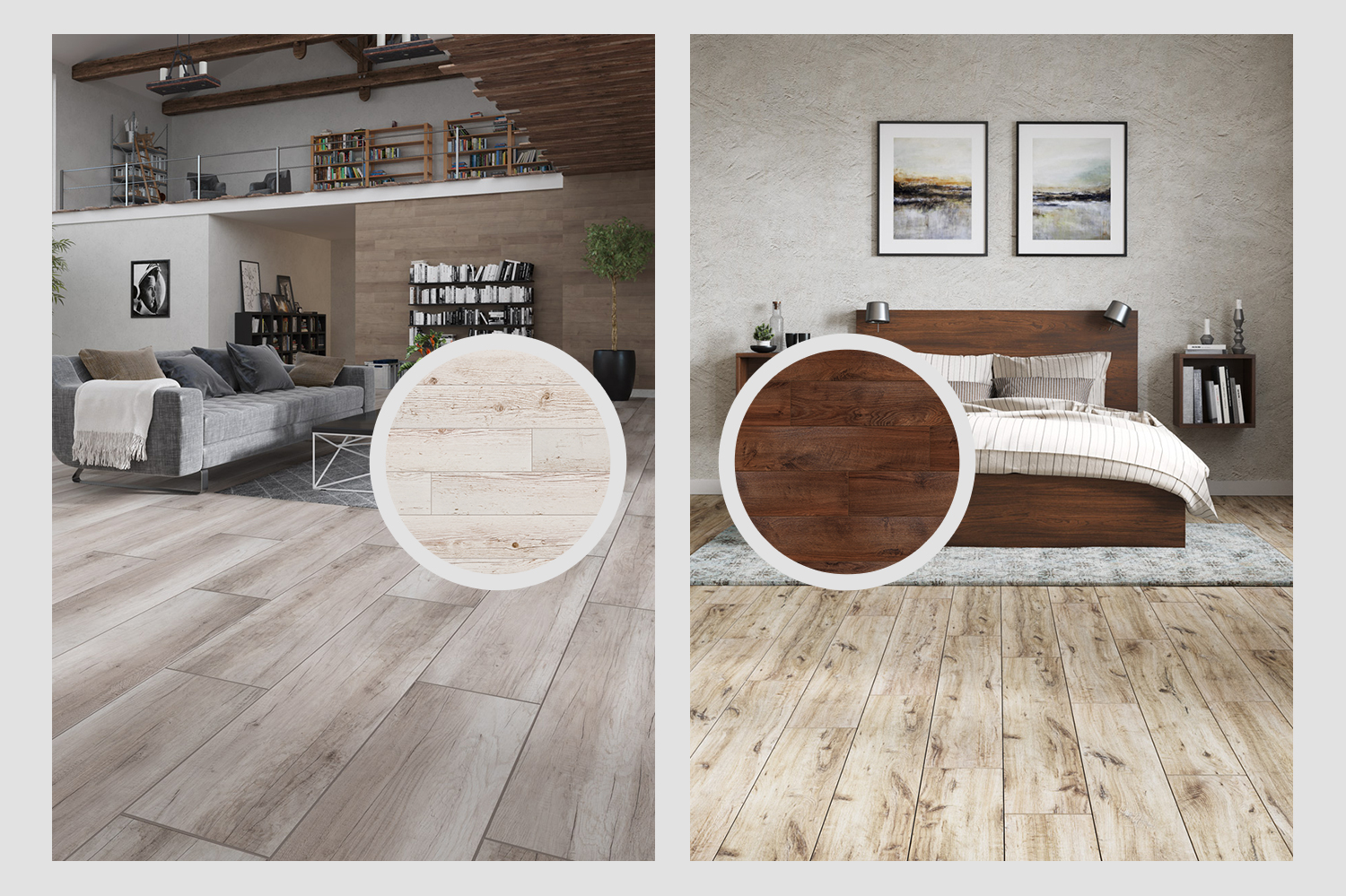 One of the most popular panels texture is wooden structure On planks surface appear wood drawings with slightly outlined rings. Lack of visible  cavities, in which impurities could be accumulated makes, that they are very easy to keep them clean. The additional plus is attractive price.
It is universal solution, which works perfectly as base of every interior. Particularly that, which is  exposed to frequent impurities This option should be considered by parents of  small children, owners of  quadruped animals and everyone, who put functionality and comfort in the first place. Panels with wooden structure can be found for example in Harmony Forte and Ballade 4V collections.
Forest inspiration in interior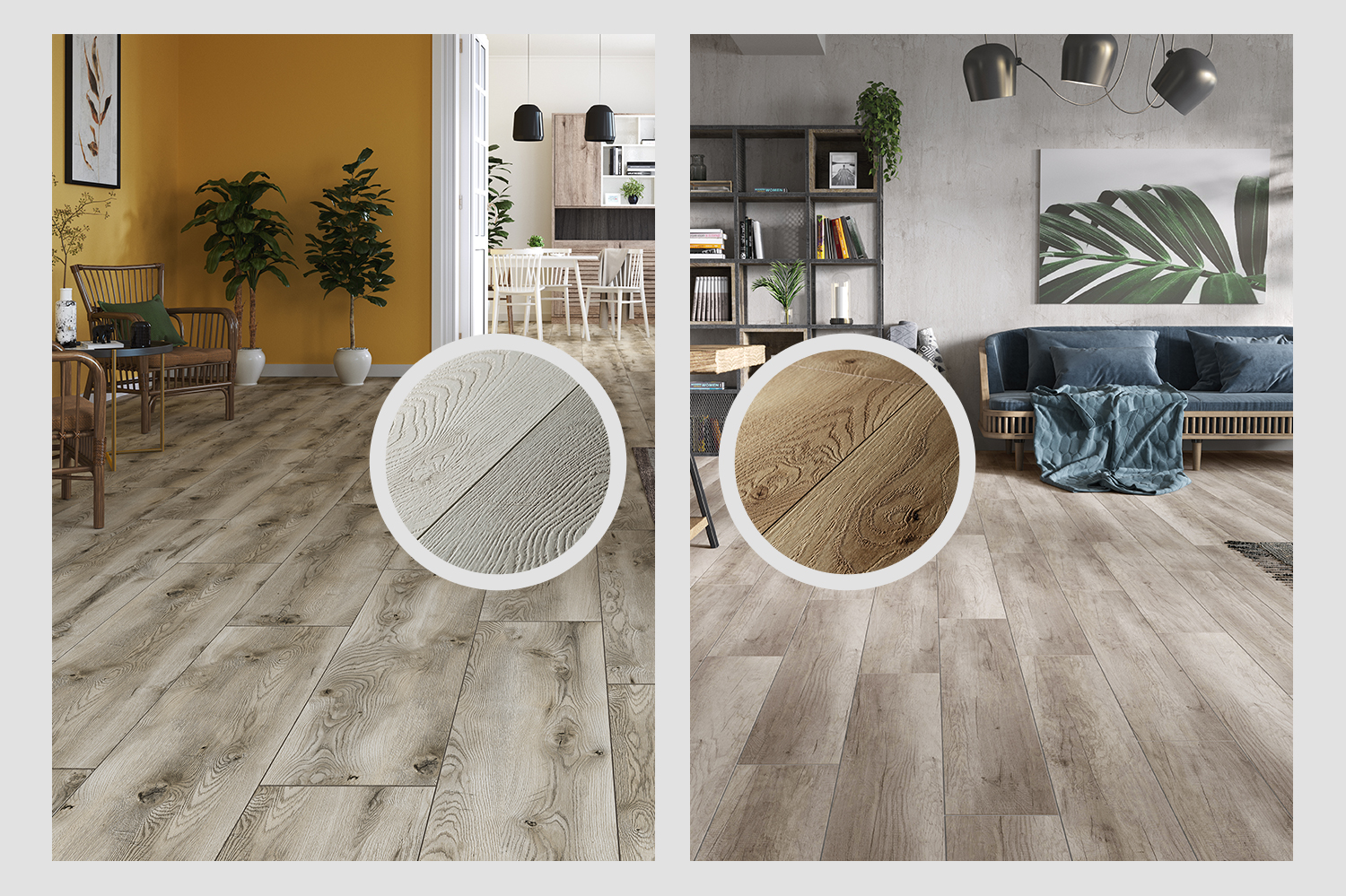 For several seasons the synchronous structure are amoung leading floor trends. What makes it diffrent and  from what growing popularity of it comes up? Panels, which are covered with that structure faithfully reply the wood appearance,  generally oak. It is merit of  embossing technology, which synchronise course of surface  structure with rings configuration on decorative pattern. Thereby the name of the structure is from. Thanks to this the floor presents very natural, and production methods, which are improved constantly caused, that it is harder to find a diffrence between the floor, and planks, which are made from real wood.
This is ideal proposition for esthetes, for whom the key role plays the visual effect. The floor give the interior an elegant appearance – especially if the synchronous structure will be accompanied by milled planks edges. Therefore It could be perfect alternative for parquet, which is more expensive and harder to nurture. You can choose this solution if You want Your house to gain fashionable and harmonic character. In the time of searching of panels with synchronous structure You can get acquainted with collections such as: Extreme 4V and Legend 4V.
Somewhat of industrial severity
To the latest types of finishing belongs stone structure, which faithfully replies the terracotta tiles appearance. Thanks to it the floor can look similar to for example: marble, basalt, slate, granite or concrete. Similar to the case of  synchronous structure, surface of panels is not smooth, but it takes an irregular form, and it makes them more natural.
Panels with stone structure are downright made for interiors in industrial style. They are perfectly found surrounded by metal, glass, or bricks, with which they are created the stylish whole. They will work good also in every modern interiors – If you would like to invite  somewhat severity and cold colours into them. The panels (like everything else) are not cold to touch  obviously, so You will keep the cofort of using. You should necessarily get acquainted with Visiogrande and SONO Landscape collection.
Which option do You choose?