Your bathroom needs renovating, but you're having a hard time getting it done? We understand you perfectly – the thought of omnipresent dust, noise and other nuisance would scare many people. So we are coming to the rescue and we are giving you a few tips, thanks to which the works will turn out to be less complicated and your bathroom will undergo a real makeover.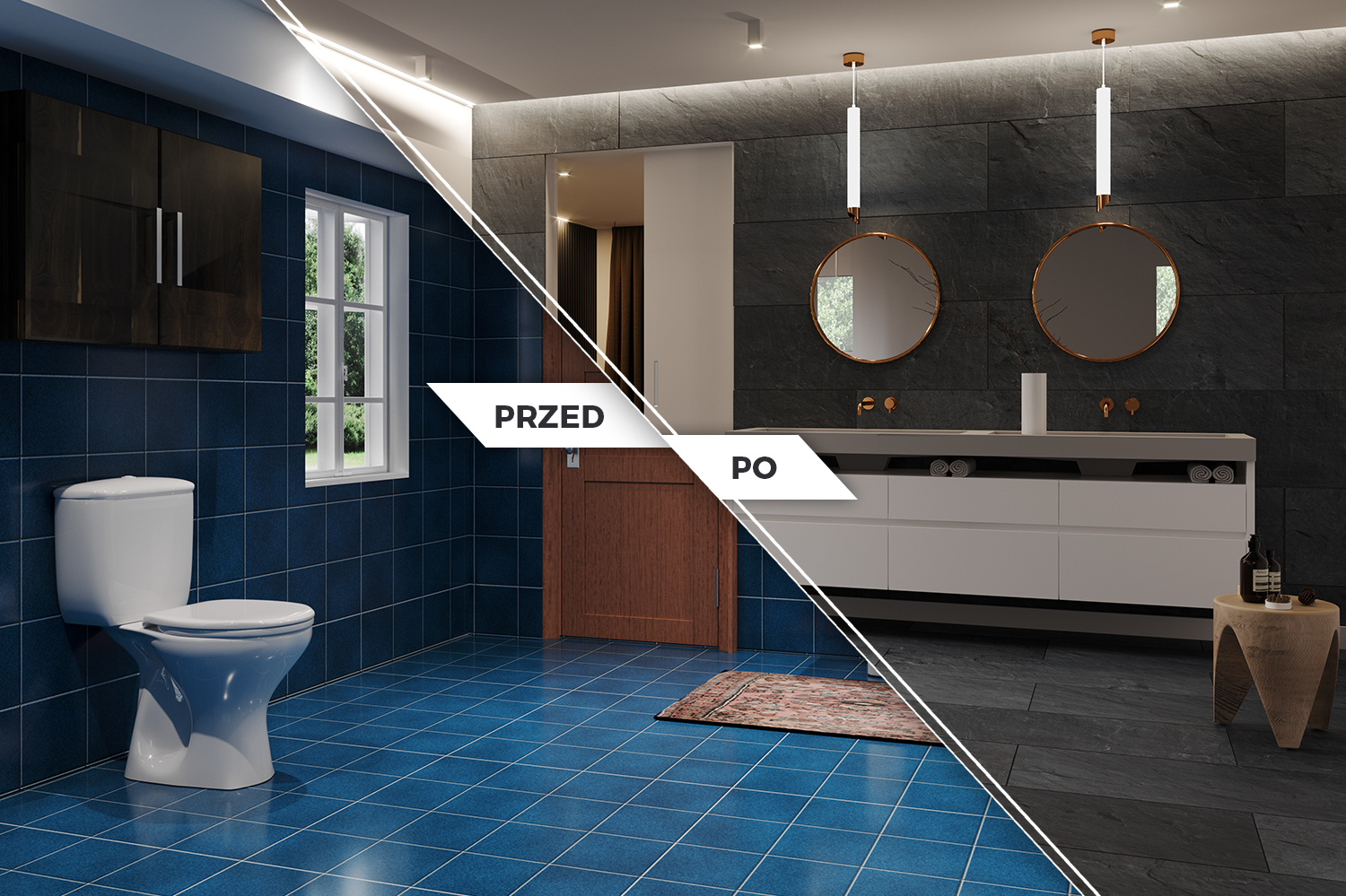 First of all, prepare an action plan – a well-thought-out concept is half the success. Think about the following: what style you want to have your bathroom arranged in, what solutions are lacking in it, what in particular you want to invest in and on this basis prepare a preliminary cost estimate. If the renovation is carried out reliably and thoroughly, the home-dwellers will enjoy the new bathroom even for the next several years.
The choice of the construction team is particularly important – professionals will not only turn the design into reality, but also advise on the choice of materials. When looking for professionals, ask your friends for advice and browse the Internet – by sending many inquiries, you will finally find the best option for you.
What is more, remember to buy all necessary products in advance – insufficient number of tiles or waiting for a bathtub with special dimensions will delay the renovation works.
When is the best time to start the renovation? At the earliest – at the turn of March and April, that is at the end of the heating season.   Positive temperatures favour ventilation of the room and guarantee greater comfort of work, while switched off heating does not hinder the works. 
Bathtub or shower?
This question is one of the biggest renovation dilemmas. And if you have an opportunity to choose between these two options, it is already a big advantage of your bathroom. However, sometimes the dimensions of the interior are too small and we do not have much chance to show off here – the only possible option is a shower. Choosing a corner model, we make the best use of the available space.
If the size of your bathroom gives you more arrangement possibilities, you should consider installing a walk-in shower. Its space is determined by fixed shower walls, which you can install at your own discretion, and if you have a large enough bathroom – give them up completely. Our next proposal is a bifold shower enclosure – when not in use, its doors fold and adhere to the walls. This way you have more space at your disposal.
At this point, there is another important question you also have to ask yourself: a cabin with or without a shower tray? There is no one good answer, because it depends on the needs of the home-dwellers. If you have small children, a version with a shower tray that plays the role of a mini bathtub will be more appropriate for you. A shower without a tray, on the other hand, looks very modern and is ideal for the elderly and those with mobility problems.
If you are a fan of long baths and you have a spacious interior – decide on a whirlpool bath. A free-standing bathtub on elegant legs will also be very impressive. The wow effect is guaranteed!
What to use instead of ceramic tiles?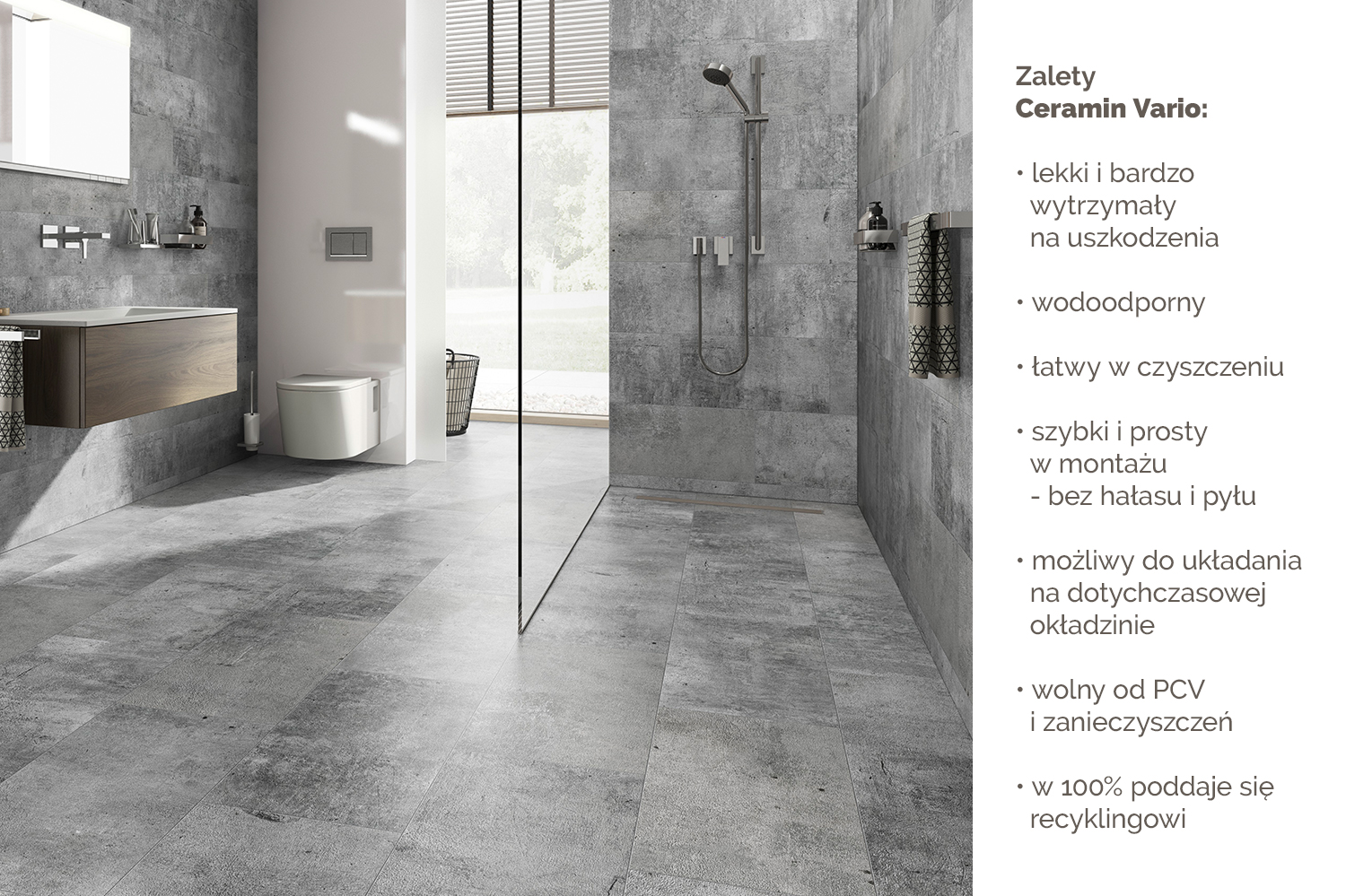 One of the most popular solutions used in the bathroom are ceramic tiles. However, removing them is not very pleasant and also time-consuming and you want to carry out the renovation without generating unnecessary inconvenience. We have a great solution for you – reach for Ceramin NEO 2.0 Vario composite tiles, which are light, waterproof and – what seems the most important – intended for installation on the current lining. Isn't that convenient? You can also forget about noisy tile cutting machine – you can cut the tiles with a cutter knife and glue them with glue (without filling the joints). As you can see, the bathroom can get a whole new look in a very simple way.
What about the floor? You can find our tips here: https://classenfloor.com/pl/inspiracje/panele-podlogowe-do-lazienki-na-co-zwrocic-uwage/
What kind of lighting to use?
The bathroom is usually darker than other rooms, that's why it is worth paying special attention to the type of lighting as well – especially if there are no windows in the interior. In addition to a standard ceiling lamp, it's worth deciding on additional spot lights so that you can light up any corner. And don't forget the extra lamp above the mirror. If there are shelves or glass cabinets in your bathroom, consider fitting LED strips as well – cheap and easy to use option that will add charm to your space.
If you find it hard to imagine how your bathroom can look like after the makeover – see our gallery and get inspired!