Japan and Scandinavia have never been so close. At least as far interior design is concerned. The best features of interior design styles, originating from these parts of the world join forces in Japan. A love of craftsmanship, minimalism and comfort – these are just some of its hallmarks.
Japandi is a blend of two words: japanese and scandi, which defines a combination of two styles of interior design: Japanese and Scandinavian. This interesting hybrid is a pass to create a balanced design – cosy, comfortable and fostering clearing one's head. It is a good idea for people who like minimalism and at the same time do not want to give up the warm atmosphere in their flat. If you are one of them, keep on reading!
Simplicity and functionality
What undoubtedly links the Japanese and Scandinavian styles is the love of simplicity. Their common spirit is perfectly reflected in the well-known maxim of Ludwig Mies van der Rohe – less is more. Japandi values pure forms, without unnecessary complexity and virtuosity. And although sometimes they may seem austere, they are function-oriented and thus aimed at meeting the needs of the home-dwellers. Spaces arranged in this convention breathe, they do not overwhelm – on the contrary, they are sometimes empty, but still pleasant and comfortable.
Simplicity and usefulness are especially noticeable in the pieces of furniture. They maintain straight lines. They are usually made of natural wood. What is characteristic is that dark and light wood is juxtaposed, thus reconciling Japanese and Scandinavian traditions. Remember that what matters here is quality, not quantity. Single pieces of furniture or a chest of drawers instead of an extensive wall unit will suffice. Choose primarily low-furniture, such as beds, tables and armchairs with low support feet
Naturalness of the interior
Japandi is characterised by a strong connection to nature. When designing your flat in this style, use natural materials such as: wood, linen, jute, bamboo, cork and clay. Plants are also necessary. And it's not about creating a home jungle. All you need is one bonsai tree or a large ivy in a pot hanging from the ceiling. As for the floor, on the other hand, ecological panels with V-groove, in patterns that emphasize the natural wood grain will be an ideal solution. Walls can be decorated with wooden planks, which will visually warm up the space.
The fact that Japandi draws inspiration from the Japanese concept of wabi-sabi is clearly noticeable. It is a tribute to craftsmanship and handicraft. It is a discovery of beauty in imperfections, in the fruits of the work of human hands. That is why, instead of flashy decorations, it is better to choose e.g. clay dishes, asymmetrical bowls, rattan puffs, raw wood tables, braided blankets or calligraphy pictures. Thanks to them, the interior will gain a unique atmosphere.
Subdued colour palette
Despite many common elements that bring the Japanese and Scandinavian styles together, there are also differences between them. These can be seen primarily in the colour palette. The first style is dominated by earth colours – deep brown, ebony, dark beige, ochre and burnt sienna. In turn, scandi loves white and grey. Pastels also appear next to them – blue, powder pink, pistachio. Thanks to them, it is possible to build a contrast that is not too pushy.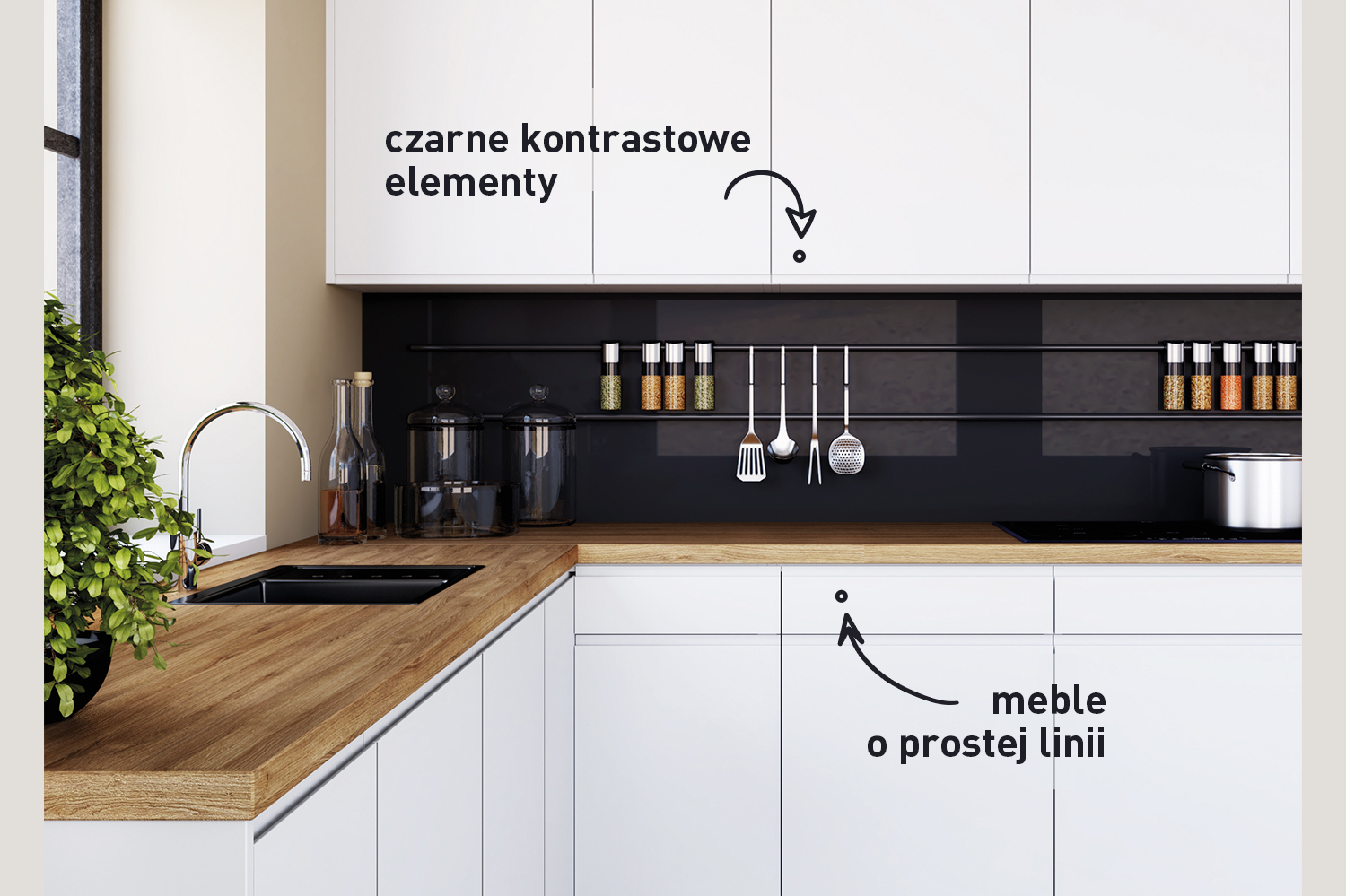 Japandi balances these two colour palettes, choosing from them subdued shades – white, light beige, medium brown. It also reaches for black, but rather in details. And all these in order to create a decor that fosters relaxation, soothes the senses and encourages you to break away from the hustle and bustle of everyday life. Who would not want to live in such interiors? 🙂